Beskrivning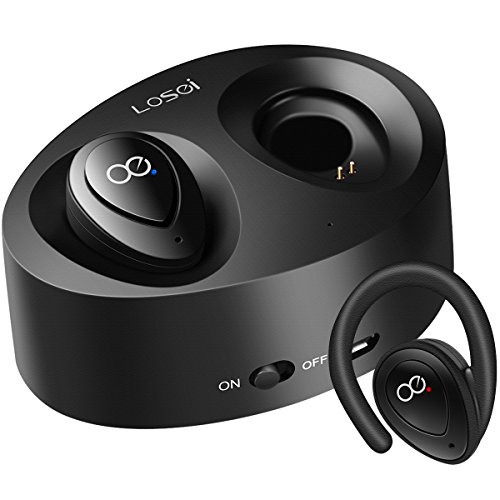 buy now

£26.99



What you get:
1 x Losei Wireless Bluetooth Headphones (Left & Right)
1 x Micro USB Cable
1 x Charging Box
3 x Spare Ear Caps (S/M/L)
1 x Ear Hooks (Pair)
1 x User Manual
1 x Text&Photos FAQ
1 x Exquisite and Environmental Protection Gift Box
Specification:
1.Bluetooth Version: V4.1
2.Support: HSP, HPF, A2DP & AVRCP
3.Earbuds Size&Weight: 28*20*28mm; 5g*2
4.Battery Capability: 450mAh/Box; 40mAh/earbud
5.Charging Time: about 1-2 hours
6.Working Time: one for 3-4 hours, and a set for 2-3 hours
How to Pair the Twins Bluetooth Headphones with your Phone:
1.Wear two earbuds, hold down both of them about 5-7 seconds, you will hear voice prompt "Power On", and several beeps. Release the buttons until you hear the first "beep" voice.
2.Please be patient to wait about 15-18 seconds without doing other things, the twins earbuds are pairing and connecting with each other. Once they pair successfully, you will hear voice prompt "connected" "left channel" "right channel" in turn.
3.Open the bluetooth of your mobile phone, search&click the model "TWS-K2" to pair. You will hear voice prompt "the second device is connected".
How to Set the Language of the Prompt Voice:
1.Turn off the earbud to reopen: Hold down the earbud about 5-7 seconds until LED flashes red and blue light nonstop.
2.Then wear the earbud, please quick double-click the multi-function key, you will hear a voice prompt "English Voice Prompt".
Please Note:
①This true wireless bluetooth headphones can't adjust the volume by itself. You have to control the volume by your phone.
②When calling, only the Left Channel Earbuds has Voice. This safety feature allows you to hear the traffic while driving.
③Please use DC-5V 1A chargers/adapters approved by the manufacturer only. Any adapters of other type may damage the bluetooth headphones.✔【V4.1+EDR for Clear Sound】Adopting V4.1 Bluetooth Version+EDR Perfect for High Quality Stereo Sound. Offer You Clear Calling and Playing Time. Make Calls Voice Dialing with High Microphone Quality, Ideal for Car Calling and Friends Chatting or Working Use.
✔【Durable with Charging Case】As a Power Bank, the Portable Charging Dock Can Hold 450mAh Electricity. When Full Charged, This Charging Box Can Provide 3-4 times Quick Full Charging for Twins Earbuds without USB Cable. Earbuds with Battery Capacity of 40mAh, One Can Work for 3-4 hours and A Set Can Work for 2-3 hours.
✔【Dual Mode & Single Mode】Can Work Together or Separately. Dual Ear Mode Allows You to Share with Others, When paired, You and Your Lover Both Can Enjoy One Music or Video at the same time; Single Mode make it cost-effective, You Can Only Buy One Set, Send One to Family, One for Your Own Use, Perfect Idea. Besides, One Earbud Can Connect with 2 Mobile Phones Simultaneously When Used Separately and Ready to Answer the Incoming Call of One Phone at Any Time.
✔【Wide Compatibility】Compatible with Most Bluetooth-enabled Devices such as iPhone7 6S 6 plus SE 5 5s, Samsung Galaxy S8 S7 S6 S5 plus and Note8 Note7 Note6 Note5 Note4 Edg, Huawei, LG G5 G4 G3, iPad etc.
✔【After-sale Guarantee】Our Products have 18 months Replacement Warranty and 100% Satisfaction Guarantee, If you are not Satisfied with your Purchase for Any Reason, Please Feel Free To Contact Us.