Beskrivning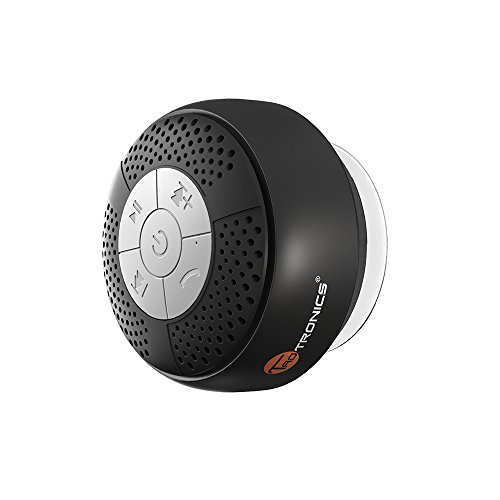 buy now

£51.59



Sing Like Never Before
For those that like to sing a cappella in the shower, now you can invite the whole band. The Bluetooth Shower Speaker is a wireless speaker with superior audio playback. Easy pairing means it's simple to connect to a wide range of Bluetooth audio devices. With a water resistant casing and extra strong suction cap, this speaker can be enjoyed in the shower, bathtub, beach, or boat.
No More Call Waiting
For those that double their phone as a music player, the speaker won't stop you from answering calls. Rather than drown out a ringing phone, you will be greeted with an incoming call announcement. If you're relaxing in the bath or had a dip in the pool and are too wet to answer, the built in microphone allows you to chat without getting your phone wet.
Water Resistant
While commonly used in wet areas, you will find that the silica suction cap can stick to almost any flat surface – wet or dry. As a water resistant speaker with an IPx4 rating, it is protected from small amounts of splashing water. Try it next time you're in the shower or take it with you on your next fishing trip.
Connect and Enjoy
No wires, cables, installations, or a bulky unit, the Bluetooth Shower Speaker is small, wireless, and ready to go. Hit the pairing button and instantly connect to a wide range of Bluetooth enabled devices like smartphones, tablets, MP3's and MP4's. Wireless music is just a tap away.
What's in the Box?
1 x TaoTronics Bluetooth Shower Speaker
1 x USB to DC Charging Cable
1 x User Guide
Take a shower with the full band and sing along to your favorite songs. Not compatible with audio books.
Wireless Bluetooth and stereo A2DP meaning you can put your mobile phone or tablet in a safe place while enjoying tunes or making phone calls
Water resistant IPX4 rating – protect against splashing water. Great for shower room, pool side, boat, bath tub, playground, etc.
6 hours of audio playback with a soft rubber coating and strong silica gel suction cap Pls. note: Customers should know they need to use a 5V adapter which means the charging output shall be 5V to enable the speaker's normal operation.
Compatible with iPhone, iPad, Android Smartphones, tablets, Windows phone, Bluetooth transmitter and other Bluetooth enabled stereo music devices