Beskrivning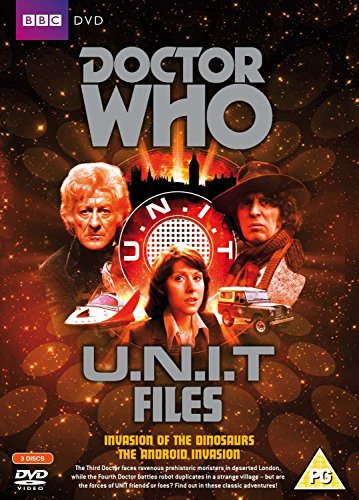 buy now

£12.99



Please note this is a region 2 DVD and will require a region 2 (Europe) or region Free DVD Player in order to play.
The Third Doctor faces ravenous prehistoric monsters in deserted London, while the Fourth Doctor battles robot duplicates in a strange village – but are the forces of UNIT friends or foes? Find out in these classic adventures!
The Android Invasion: When the TARDIS lands in the sleepy English village of Devesham, Sarah thinks the Doctor has finally got her back home. But all is not as it seems…
Invasion of the Dinosaurs: Returning to London the Doctor and Sarah find a city almost completely devoid of life. The civilian population has been evacuated in the wake of an unimaginable event: somehow Dinosaurs have returned to terrorise the Earth.
Actors Jon Pertwee & Tom BakerCertificate PGYear 1974 ; 1975Languages EnglishRegion Region 2 – Will only play on European Region 2 or multi-region DVD players.