Beskrivning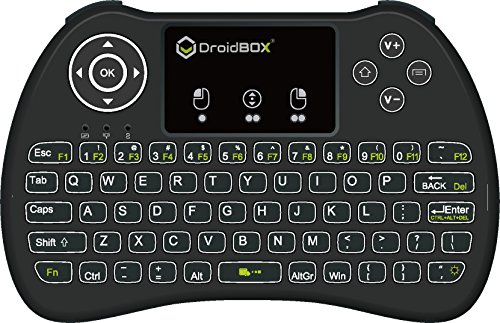 buy now

£15.59



DroidBOX i9 2.4GHz Backlight Rechargeable upgraded i8 wireless mini touchpad keyboard with mouse for DroidBOX T8-S Plus, T8 Mini, iMXQpro, Raspberry Pi 1,2,3, Intel NUC, HTPC, Windows mini PC Devices The DroidBOX i9 is the latest mini keyboard with a touchpad. Using a 2.4GHz wireless connection you can control your device from up to 10 metres away.It features a full QWERTY keyboard, with function buttons and multi-media control keys. The touchpad can be used to control the mouse cursor with one finger and two fingers to scroll on your device.
DroidBOX i9 Keyboard Specifications:
Layout:UK
Operating range: 10 meters(MAX)
Frequency range: 2.403GHZ ~ 2.480Ghz
Battery Type: Built-in lithium-ion battery
TX Power: less than +5dBm
Transmission rate: 1M bit/sec
Frequency tolerance: +/-30ppm
Modulation: GFSK
Package Includes:
1 – DroidBOX i9 Keyboard
1 – USB Charging cable
1 – USB Receiver for DroidBOX Devices/PC/XBOX/PS Connection
1 – User Manual
Compact, light and fully featured. A mini keyboard with full QWERTY keys, function, navigation buttons and multi touch touchpad.
Brighter LED backlight. The keys are now much easier to see in dark or dimly lit rooms.
Plug and Play ease of use and compatible with devices including DroidBOX and other Android devices, PC, Raspberry PI, TV Box, PS4, HTPC/IPTV.
2.4G wireless connection allowing for control of your device from up to 10 metres away.
Rechargeable Li-ion battery allowing for hours of use on one charge and no need to swap batteries.