Beskrivning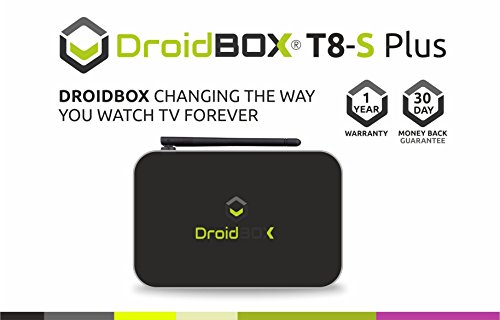 buy now

£89.53



Our devices come with useful applications, all fully legitimate and licensed where required.
Unlike many competitors, our Android powered mini computers don't suffer under the strain of bloatware and add-ons that are often out of date and of questionable legality. Installing new software is made very easy. Ending up with a device that does exactly what you need, without wasting space on features you will never use or want!
The much-beloved T8-S Plus is back, with a major overhaul. The original S812 Amlogic chipset has been replaced with the brand new S905 for our T8-S Plus V2, which has powerful video decoding capabilities and can easily push 4K UltraHD at up to 60Hz through its HDMI 2.0a port. Powered by Android 6.0, the T8-S Plus V2 is a plug and play device suitable for anyone, even for somebody with no tech background. With both Dolby Digital and DTS compatability, the T8-S Plus V2 ensures that you can enjoy your media to the fullest. The UltraHD video capability is well matched with superb fidelity surround sound, whether watching the latest blockbuster or your favourite band's concert!
DroidBOX Market will give you access to hundreds of apps for any type of media content
DroidBOX T8-S Plus V2 Specifications:
CPU Quad-Core Amlogic S905 up to 2.0Ghz
GPU Mali-450
HW UHD H.265/VP9 60fps
RAM 2GB (DDR3)
Internal Storage 32GB
HDD Bay for up 2 TB 2.5′ HDD
SD Storage Extendable (Up to 32GB!)
Ethernet 1000 Mbit adapter
Bluetooth 4.0
Wi-Fi Dual Band 2.4GHz/5GHz 802.11b/g/n/AC
HDMI v2.0a
DroidBOX Share
DroidBOX Control Center
Google Cast Support
Package Includes:
1 – T8-S Plus V2
1 – Remote Controller
1 – UK Power Adaptor
1 – HDMI Cable
1 – User Manual
New to this sort of system? Easy access to our video guides & fixes mean a problem won't last long! Whether or not DBMC is familiar, DroidBOX's Control Centre is there to help. Our Launcher is designed & developed by DroidBOX just for our customers.
DBMC: Think of this as storage. You decide what to store there. If you like media, you would store access to these, perhaps with some music access on top.
DroidBOX Share can be used with your smartphone or tablet (Android or iOS) to interact with your DroidBOX device. Stream any file (audio, video, photos, Microsoft Office documents, TXT, PDF etc ) from your mobile device to your TV via the DroidBOX device. Mirror the TV screen to your smartphone or tablet and control the DroidBOX. Supports any DLNA certificated client – iMediaShare, BubbleUPnP etc.
With AirPlay compatibility (iOS 4.2 or later required), your TV can now stream music and videos from your Apple hardware! If you install iTunes on your PC, you can even stream from there. Lossless compression is used (as opposed to the compression used with Bluetooth), meaning your media will be shown with high fidelity.
As time goes on, code tends to be improved and built upon, whether entire applications, Android version or simply a graphical tweak. With updates handled easily & directly on the device, our system ensures you can upgrade with just a few clicks.