Beskrivning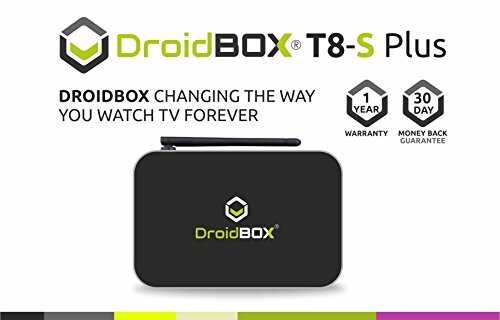 buy now

£91.59



Kodi 17 Ready! These devices meet Kodi's Krypton build requirements. Upon release of a stable version of Kodi 17/Krypton, an update will be made available by DroidBOX to ensure the upgrade goes smoothly.
The new DroidBOX T8-S Plus is our newest all in one social hub and media player. DroidBOX Market will give you access to hundreds of apps for any type of media content
Stream any file (audio, video, photos, ms-office documents, txt, pdf, apk…etc) from android devices to TV
DroidBOX Share is a multi-screen interaction application for smart phone or tablet to interact with DroidBOX T8-S Plus
Use your android devices as touch mouse, air mouse, keyboard, touch pad and remote controller of TV
Stream camera and micphone of android phone or tablet to TV
Mirror TV screen to smart phone or tablet and touch the screen direct to control TV
Real-time scale, rotate or slide picture on android mobile device and show it on TV
Airplay & Support any DLNA certificated client, such as imediashare, BubbleUpnp…etc
Android 5.1.1 with Kodi 15.2 Isengard!
DroidBOX T8-S Plus Specifications:
* OctaCore Mali450 High Performance 3D GPU
* Amlogic S812 QuadCore 2.0Ghz Cortex A9 Neon CPU
* 2GB RAM (DDR3)
* 32GB Total Internal Storage
* USB Storage Extendable (Flash Drives/HDD)
* SD Storage Extendable (Up to 32GB!)
* 1000 Mbit Ethernet adapter
Bluetooth 4.0
* Dual Band 2.4GHz/5GHz 802.11b/g/n/AC Wifi
* HDMI v1.4
* Fully Rooted!
* Comes with IR remote
New to this sort of system? Easy access to our video guides & fixes mean a problem won't last long! Whether or not Kodi is familiar, DroidBOX's Control Centre is there to help. Our Launcher is designed & developed by DroidBOX just for our customers.
– Hunting for more media to watch, need apps that can tweak settings or perhaps large screen gaming is your preferred way to pass the time? With hand-picked apps that expand the possibilities on offer, DroidBOX Market is your one stop shop!
– Interactive remote control/streaming system for smartphones/tablets. Stream music/videos to your DroidBOX. Open apps remotely, all with DroidBOX Share. From a DroidBOX device to (effectively) a Chromecast! Cast phone/tablet/PC's YouTube in Chrome.
– Kodi/DBMC: Think of these as storage. You decide what to store there. If you like films, you would store access to these, perhaps with some music access on top. OpenELEC: Stripped down racer 2nd operating system – increased media playback performance.
– As time goes on, code tends to be improved and built upon, whether entire applications, Android version or simply a graphical tweak. With updates handled easily & directly on the device, our system ensures you can upgrade with just a few clicks.