Beskrivning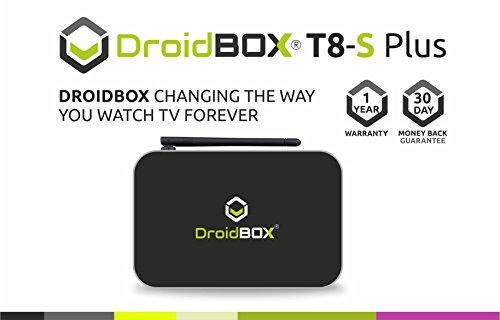 buy now

£96.82



Our devices do not come with add-ons pre-installed.
We don't fully load with add-ons because systems bloated with un-necessary code can slow down, not update properly and cause concerns for the security-minded. Use our system to install what you need, you decide what you like, so you should be able to decide what to include on your device.
Kodi 17 Ready! These devices meet Kodi's Krypton build requirements. Upon release of a stable version of Kodi 17/Krypton, an update will be made available via OTA update.
The new DroidBOX T8-S Plus is the most popular streaming device on the market. Based upon the powerfull Amlogic S905 and support for 4K UHD video, this model is purchased by many for relatives who are not as tech-savy, and feel less comfortable with gadgets surrounding them. OTA support streamlines the process for future firmware upgrades. DroidBOX T8-S Plus comes with Android 5.1.1 and DroidBOX media center based on Kodi 16.3 Jarvis
DroidBOX Market will give you access to hundreds of apps for any type of media content
Airplay & DLNA streaming support
DroidBOX T8-S Plus Specifications:
CPU 2.0 GHz Quad Core Cortex A9 Neon Amlogic S812
H.265 at up to 4K@30Hz
RAM 2GB (DDR3)
Internal Storage 32GB
HDD Bay for up 2 TB 2.5′ HDD
SD Storage Extendable (Up to 128GB!)
Ethernet1000 Mbit adapter
Bluetooth 4.0
Wi-Fi Dual Band 2.4GHz/5GHz 802.11b/g/n/AC
HDMI v1.4b
Fully Rooted!
DroidBOX Share
DroidBOX Control Center
Google Cast Support
Package Includes:
1 – T8-S PLus
1 – Remote Controller
1 – Power Adaptor
1 – HDMI Cable
1 – User Manual
New to this sort of system? Easy access to our video guides & fixes mean a problem won't last long! Whether or not Kodi is familiar, DroidBOX's Control Centre is there to help. Our Launcher is designed & developed by DroidBOX just for our customers.
Hunting for more media to watch, need apps that can tweak settings or perhaps large screen gaming is your preferred way to pass the time? With hand-picked apps that expand the possibilities on offer, DroidBOX Market is your one stop shop!
Interactive remote control/streaming system for smartphones/tablets. Stream music/videos to your DroidBOX. Open apps remotely, all with DroidBOX Share. From a DroidBOX device to (effectively) a Chromecast! Cast phone/tablet/PC's YouTube in Chrome.
Kodi/DBMC: Think of these as storage. You decide what to store there. If you like films, you would store access to these, perhaps with some music access on top. OpenELEC: Stripped down racer 2nd operating system – increased media playback performance.
As time goes on, code tends to be improved and built upon, whether entire applications, Android version or simply a graphical tweak. With updates handled easily & directly on the device, our system ensures you can upgrade with just a few clicks.