Beskrivning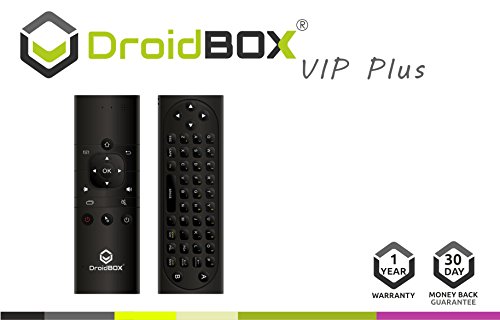 buy now

£17.99



The 3 in 1 DroidBOX VIP Plus remote control features traditional remote buttons, a keyboard and air mouse functionality. On one side of the remote are the traditional control buttons that enable you to navigate menus and common controls. On the reverse side of the remote is a full QWERTY keyboard and additional navigation buttons. The air mouse feature allows you to wave your remote at the television to move the on-screen navigation cursor. It provides a convenient, fast and intuitive experience.
Note:Please note that the advertised Remote Learning Mode in the manual does not work on this version. You will not be able to reprogram the remote.
DroidBOX VIP Plus Remote Specifications:
Layout:UK
Radio transceiver: DSSS
Operating range: 10 meters(MAX)
Frequency range: 2.5Ghz
Battery Type: Built-in lithium-ion battery
Gyroscope: 3
G-Sensors: 3
Package Includes:
1 – DroidBOX VIP Plus Remote
1 – USB Charging cable
1 – USB Receiver for DroidBOX Devices/PC/XBOX/PS Connection
1 – User Manual
Full QWERTY keyboard and Google Android TV Remote
Motion sensor allows mouse to be controlled by waving the remote.
2.4G transmission up to 15m
Plug-and-play function, compatible with USB1.1 and USB2.0
Perfect for XBMC, PC, Smart TV, Smart Box, Tablets.