Beskrivning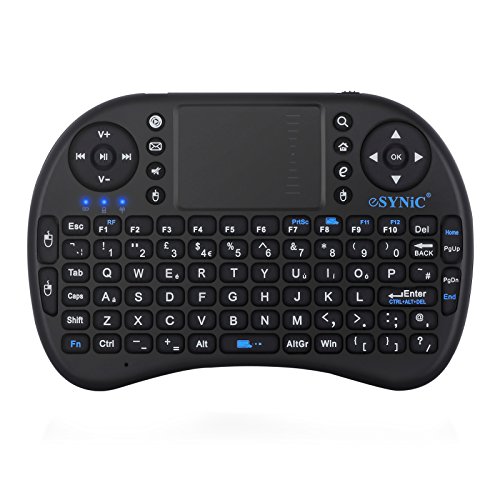 buy now

£11.19



All ESYNiC Product Comes With 18 Months UK Base Warranty
Overview :
This ESYNiC 2.4G Mini Wireless Keyboard Touchpad Mouse Combo is special designed British Layout Keyboard, comfortable for working or playing.
Features:
2.4GHz wireless connection, smart and portable size.
Build-in removable rechargeable Li-ion battery that has longer standby time.
Multimedia remote control and touch pad functional handheld keyboard.
Built-in intelligent power management software for power conservation.
Comparable to the real notebook touch pad Perfect for PC, Pad, Andriod TV Box, Google TV Box, Xbox 360, PS4, HTPC/ IPTV, Smart TV Box etc.
Specification :
Color: Black
Wireless Technology: 2.403 GHZ ~ 2.480GHZ
Operation Range: 10meters (MAX), without signal disturbance or Obstacles.
Layout: 92 keys
Transmitting Power: Max +4dBm
Multimedia keys: Play/Pause, Next Track, Previous Track, Home, Email, Internet, Volume+, Volume-, Mute, Mouse Left, Mouser Right
Compatibility: Windows, Mac and Linux based laptops, PC's, and notebooks
Charge Voltage: 4.2V-5.05V
Dimensions: 160 x 145 x 30 mm
Weight: 70g
Package Content :
1 x 2.4Ghz British Layout Wireless Mouse Keyboard Touchpad Combo
1 x USB Receiver
1 x USB Cable for Recharge
1 x User Manual
Note:
1. Not for the Mobile Phone, as the mobile phone did not have the USB Port
2. Not for some Update Version Linux System Smart TV.
3. Work for the Base Linux System and Android System Smart TV.
4. NOT FOR TABLET, as the Tablet did not have the USB Port for the USB Receiver.
ESYNiC 3 in 1 Multifunctional Mini 2.4GHz Wireless Touchpad Mouse Combo Keyboard, British Layout-Pound, Smart and Portable Size, Elegant
Long Control Distance, Distance up to 10 Meters without Signal Disturbance and NO Direction Limit
Multimedia Remote Control and Touch Pad Functional Handheld with 92 Keys Keyboard, Comparable to the Real Notebook Touch Pad, Perfect for PC, Pad, Andriod TV Box, Google TV Box, Raspberry PI, XBMC TV Box, PS4, HTPC/IPTV, etc
Build-in Removable Rechargeable Li-ion Battery that Has Longer Standby Time and Built-in Intelligent Power Management Software for Power Conservation, Come with the USB EXTENDER CABLE, Extend for USB Receiver
Also need a TV BOX ? Please Search ASIN B017BEXKYA and Enter Code 2DDU8TL5 at checkout and you could save 10% on this item.