Beskrivning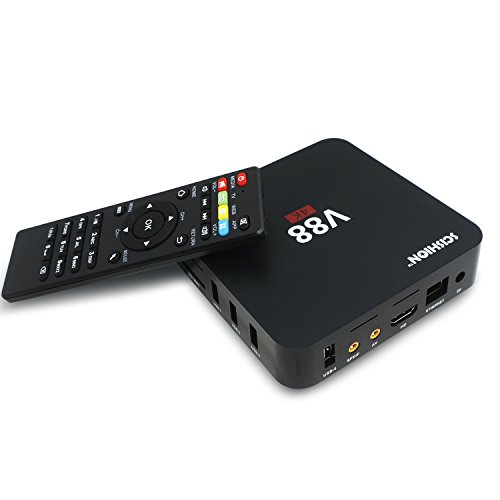 buy now

£26.99



About EMISH:We specialize in consumer electronics.We keep on offering well designed and high quality products to all of our customer.Trust me, you can not only get an wonderful experience, but also perfect performance of the products which backed by amazing customer service and support.
Software:
*OS: Android 6.0
*Adobe Flash Version:Adobe Flash 10.1 support or above.
*Audio:MP3,AAC,WMA,RM,FLAC,OGG etc
*DLNA:Pushed the video, audio, pictures from phone or network to TV.
*Adobe Flash Supported:Adobe Flash or above.
*Google TV Remote:Through WF network to realize control the product.
*LAN:Through the LAN, can check other devices to share information.
*3D movie:Support 3D movie.
*Motivator air mouse:Support the body feeling game, such as playing tennis, paper planes, shooting, etc
*Support language:English ,Germany ,Chinese , Japanese, Korea etc.24 languages.
Hardwareware:
*CPU:Rockchip 3229 Quad-Core(1.5GHZ)
*Memory Card:DDRIII 1GB.
*802.11b/g/n
*Flash:eMMC Flash 8GB (Support 16GB)
*IR:Infra Remote control.
*Mould:Support for multiple mold
*Power: DC input 5V/2A
Features:
*Apps:Apps download freely form android market amazon google play etc.
*Others:Support wifi hotpiont ,could be as a wireless router,Support XBMC, Email , office suit etc.
Package List:
1x TV box
*1x Power adapter
*1x HD cable
*1x IR remote control
*1x User ManualHIGH PRFESSION & SMARTER: EMISH V88 Tv Box use PROFESSIONAL ROCKCHIP Quad-Core Cortex-A7, Performance strong 3D GPU, up to 1.5GHz,
1GB RAM + 8GB ROM & 3D GPU: 128GB maximum extended capacity gives you more space to download your favorited apps and caches to browse websites,
Tv Box use android 6.0 Lollipop OS which gives you the benefit of using all the latest updates
you can download the current popular software. you also can play thousands of android games and stream movies
hardware decoding, takes up less bandwidth (about 50%) compared to H.264. HD 2.0 video playback expands the bandwidth