Beskrivning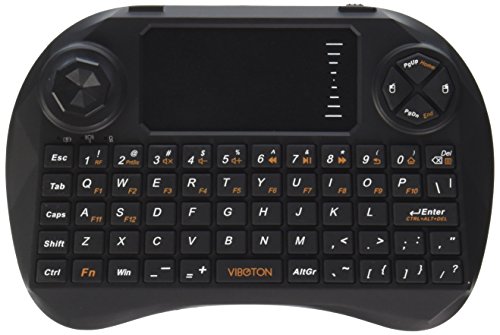 buy now

£19.33



Model: X3
Wireless USB device across the globe.
Wonderful Combo:
2.4GHz wireless mini QWERTY keyboard, TouchPad combo, with USB interface adapter.
For the lectuer, sales ladder, moderator and other:
A 10 'Radius of a presentation and operate PC wirelessly on the inside.Change slides and screen options, write on the screen, emphasize words and objects just by using this wireless mini keyboard and mouse with touch pad.
System Operating System
Perfect for PC, Pad, Andriod TV Box, Google TV Box, for Xbox360, PS3, HTPC/IPTV, etc.
Retail & # XFF1 counter display a;
•, but it works with 2.4 GHz wireless keyboard with touchpad. Touchpad DPI adjustable functions.
•, built-in high sensitive smart touchpad with 360-degree flip design.
•, Mini QWERTY keyboard with multimedia control keys and PC gaming control keys. Auto sleep and auto wake mode.
•, innovative direction control via rod design, exclusive square design, super max touch control, portable, stylish, the ergonomically handheld design is easy to carry and operate.
• Built-in removable rechargeable Li-ion battery that has longer standby time.
Note:
After 3 minutes without operation will be packed securely by our professional team in sleep mode, press any button to 1S Wake Up.
Specification:
• Dimensions (L x W x H): 145 x 98 x 48 mm.
• Range: 10 metres.
•, working current: 10mA.
•; the standby current: 6 mA.
• – Sleep: Current 0.01 mA sensitivity.
• Colour: Black
& # x2022; Battery Type: Lithium-Ion Battery/dry batteryFunction: With 2.4 GHz QWERTY keyboard + remote controller + Air Mouse 3 in 1 function to meet your different needs. X3 different operations.
Design: Innovative direction using with the control rod design, exclusive Square Design, Super touch control, portable, elegant and the ergonomic handhold design is easy to carry and simple to use.
Technology: 2.4 GHz wireless transmission technology, Super connection range can last up to 10 metres.Touchpad DPI adjustable functions.
Products includes: Wireless Keyboard, Lithium Battery or dry, wireless receiver, battery charge data cable, instruction manual (may not be in English).Welcome guide. If you are within three months and friendly service have product quality problems, x we promise for free replacement.
Device support: compatible with Windows/Mac/Linux/Android/iOS.Comprehensive compatibility.