Beskrivning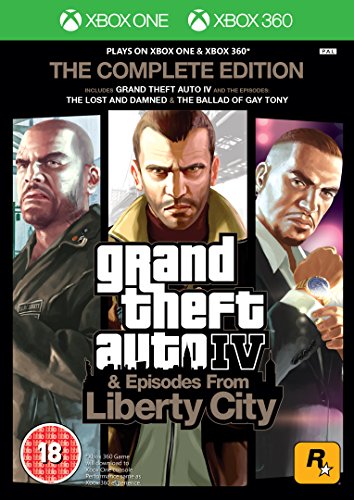 buy now

£12.00



Includes: The original Grand Theft Auto IV 4 game The Lost and Damned The Balled of Gay Tony What does the American Dream mean today? For Niko Bellic, fresh off the boat from Europe, it is the hope he can escape his past. For his cousin, Roman, it is the vision that together they can find fortune in Liberty City, gateway to the land of opportunity. As they slip into debt and are dragged into a criminal underworld by a series of shysters, thieves and sociopaths, they discover that the reality is very different from the dream in a city that worships money and status, and is heaven for those who have them and a living nightmare for those who don't. Beginning with the 1997 release of the original Grand Theft Auto, the GTA series has been one of the most prolific, controversial and down right entertaining franchises in video games history. This pedigree of success guarantees that the highly anticipated eleventh game in the series, Grand Theft Auto IV, will garner at least as much attention if not more. Grand Theft Auto IV is a brand new adventure in the GTA universe following the experiences of Nikolai "Niko" Bellic, a new immigrant from an undisclosed eastern European country whose troubled pa st and the persuasion of his cousin Roman have brought him to the fictional Liberty City. Unfortunately, Niko's search for the American Dream and a much needed fresh start, hits an immediate snag when the rags to riches story Roman spun to pique Niko's interest is exposed as not only a complete fabrication, but a ploy to enlist Niko's well-known skills as a tough guy against the ample list of enemies clamouring for Roman's debt-ridden blood. Because Roman is the only person Niko knows in Liberty City he begrudgingly accepts his role as Roman's protector despite the deception. But as time goes on Niko comes into his own, and his experience on the wrong side of the tracks proves more valuablePlays on Xbox 360 and Xbox One with Backward Compatibility.
The Complete Edition includes Grand Theft Auto IV and the episodes – The Lost and Damned & The Ballad of Gay Tony.
This standalone retail title spans three distinct stories, interwoven to create one of the most unique and engaging single-player experiences of this generation.
This definitive Grand Theft Auto bundle boasts hundreds of hours of single-player gameplay
a full suite of open-world multiplayer game types limited only by players' creativity
Dozens of eclectic radio stations with hours of music and original dialogue.