Beskrivning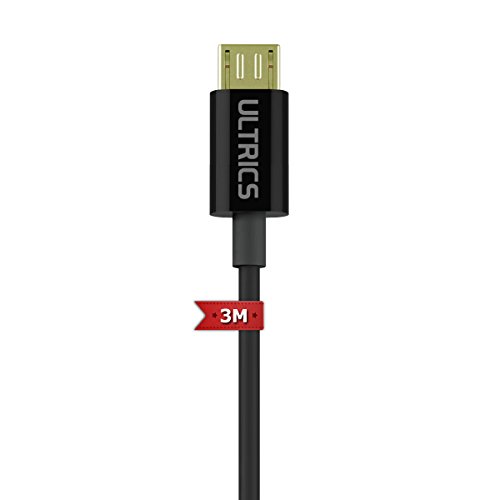 buy now

£5.99



ULTRICS® 3M (9FT) Premium High Speed USB 2.0 A Male to Micro B Gold Plated Micro USB Cable.
Compatible With:
This Premium Micro USB Cable is Compatible with Smartphones,Tables,MP3 Players, cameras, Hard Drives, e-readers, Power Banks, External Batteries, SAT NAV, GPS, PS4,PS3,XBOX and other handheld game consoles. All other Micro-USB Compatible devices from brands including Samsung, HTC, Motorola, Nexus, Nokia, LG, HP, Sony, Blackberry and many more.
Quick Charge & Faster Sync cable:
Micro USB cable is made of oxygen-free copper conductor with shielding and low resistance. It supports charge current up to 2A which can charge your portable digital devices simultaneously even with 10% faster Speed than other standard Cables. Sync you data up to 480Mbps Speed Via USB 2.0 with Laptop, PC, Printers, Camera and Other Compatible Digital device.
Case Compatibility Micro USB Cable:
The compact connector heads fit snugly into almost all cut-outs. Don't be denied your case of choice by a bulky cable.
Made to Last:
Our cables are constructed to resist wear and tear and kinking with a 5000+ bend lifespan several times longer than standard cables.
Easy to Store & Transport:
When you're finished, coil the cables with ease. They're Slim & lightweight to take Easy Installation, Sync &
Easy Installation, Sync & Charging Cable:
Plug the standard Type-A Male connector into your computer/Wall Charger & the Micro Type-B connector into your other device to begin using.
Premium Warranty & Support:
As we are the maker, Quality first is our tenet. Every sale includes an 18-month, worry-free guarantee to prove the importance we set on quality. We have friendly and world class customer support to get you the best of it.
Package Contents:
1 X Micro USB Sync Charging Cable
(White Poly PP / Bulk Packaging)✅ QUICK CHARGE & HIGH SPEED SYNC MICRO USB CABLE: You can charge your Android Device or Smartphone Up to 10% Faster than other Cable and Transfer Data at 480Mbps via USB 2.0 from laptop PC & Other Media Device Such as Camera, Printer, Portables, PS4 XBOX and More
✅ SMARTPHONE E-READERS & GPS COMPATIBILITY MICRO USB CABLE: Compatible with e readers, Google Nexus, Samsung Galaxy Tab, Galaxy Note/ Note Edge, Galaxy S3/S4/S5/S6/S6 EDGE, Nokia Lumia, HTC ONE, most Android Tablets and Phones, and Windows Phones Even you can charge your devices through USB wall chargers.
✅ RELIABLE AND PREMIUM DURABLE PERFORMANCE SYNC CABLE: It's a Slim, Compact, heat-resistant sync and Charging Cable having gold plated connectors, slot in easily but securely and fit with most cases. Durable and environmentally friendly, TPU cable jacket, EMI & EMC Shielded/Metal Braided, Foil protects wire cores.
✅ UNIVERSAL COMPATIBILITY MICRO USB CABLE: This Micro USB Cable Also Works with MP3 players, digital cameras, camcorders, HDD, e-readers, external batteries, game console and more. It even supports other digital devices from brands like Samsung, Sony, LG, Nexus, Blackberry, HTC, Nokia, Huawei, PlayStation, XBOX and so on.
✅ SATISFACTION GUARANTEED WITH ULTRICS® BRAND: Your Purchase of this Micro USB SYNC and charging cable warrantied for 18 months of ULTRICS Warranty and Friendly Customer Support.