Beskrivning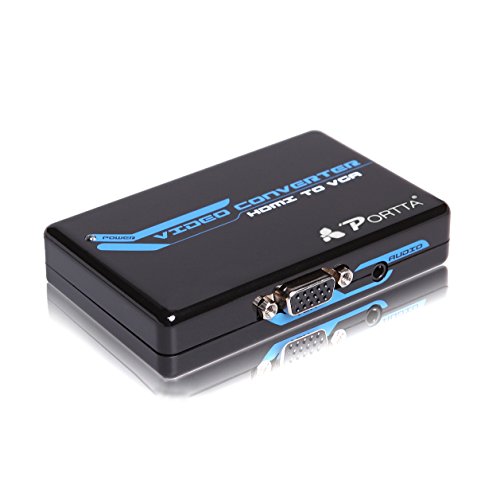 buy now

£19.50



Portta HDMI to VGA + 3.5mm Mini Converter 1080p
The HDMI to VGA converter converts digital HDMI video signal to analog VGA, taking the input resolution from your device and converting it into an analog signal
at the same resolution. The converter also separates the audio stream from the HDMI signal (HDMI LPCM 2-Channel) and converts it to analog stereo audio that
can be used with the VGA display. With support for resolutions of up to 1080p, the converter is a perfect solution for connecting video cards (desktop or laptop) or
consumer electronics devices such as game consoles or home theater receivers that offer an HDMI output to a VGA display.
Feature:
HDMI resolution:
480p@60Hz,720p@50/60Hz,
1080p@60Hz, 800×600@60 Hz,
1024×768@60 Hz, 1920×1080@60 Hz.
VGA resolution:
640×480@60Hz, 1280×720@60 Hz,
1920×1080@60Hz, 800×600@60 Hz, 1024×768@60 Hz
Specification:
Input Video Signal:HDMI Signal
Output Video Signal:VGA Signal
DTV/HDTV:480p/576p/720p/1080p
Video. Amplifier Bandwidth:2.25Gbps/225MHz
2.25Gbps/225MHz:60Hz
Progressive Resolutions(60Hz):480p,576p,720p,1080p
Power Supply:USB Power Cable
Power Consumption(Max):5W
Note:
The converter doesn't support audio decoding. Please assure the output audio format of the input device is set to LPCM in case there's no sound output for the converter.
Package Content:
Main Unit x1
USB Power Cable x1
User Manual x1
Warranty Card x1(5 Years Worry-free Warranty)Easy to use, install in seconds, no settings and resolution pass-through converter
Converter HDMI signal to VGA signal at the same resolution
Support HDCP 1.3; Audio output format: 2 channel LPCM
Support 225MHz/2.25Gbps per channel (6.75Gbps all channels) bandwidth for HDMI input
What you can get: Main Unit x1, 5V Power Supply x1, User Manual x1, Warranty Card x1(5 Years Worry-free Warranty).