Beskrivning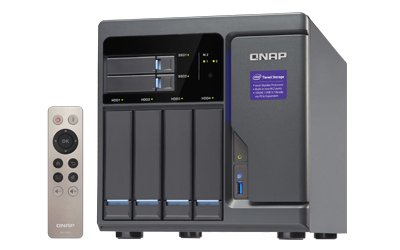 buy now

£1,258.80



The TVS-682 features advanced hardware by adopting 6th Generation Intel 14nm multi-core processors and was designed around the concept of tiered storage, application-based partitioning and network traffic distribution. Featuring PCIe Gen.3 slots that can support 10GbE/40GbE NIC, PCIe NVMe SSD, graphics cards, and USB 3.1 expansion cards, the TVS-682 also supports smooth 4K 60 fps video transfer and display, cross-platform file sharing, comprehensive backup and disaster recovery, iSCSI & virtualization and more business applications. Incorporating reliability and security, the TVS-682 presents an ideal choice for a complete business-ready storage solution.
6th Generation Intel processors, extraordinary performance
The TVS-682 is powered by high-performance 6th Generation Intel multi-core processors with options including Pentium and Core i3, increasing system performance by 20% – 30% compared with previous generations. It greatly enhances the efficiency of CPU-demanding applications such as virtualization, real-time 4K video playback, and serving large numbers of simultaneous connections.
M.2 SATA 6Gb/s SSD & 2.5″ SSD cache
The TVS-682 provides 2 SSD slots dedicated for caching to increase IOPS performance, and provides higher transfer speeds and reliability with the compact, energy-efficient M.2 SSD. Using an SSD cache boosts overall system performance, and is perfect for improving overall workflow of random IOPS demanding applications such as virtualization. The TVS-682 combines M.2 SSD, 2.5″ SSD and HDD in one box to effectively realize tiered storage for exceptional application performance and lower TCO of storage at the same time.
HDMI 2.0 for playing 4K 60 fps videos
The TVS-682 features three HDMI ports, including one HDMI 2.0 port for smoothly playing Ultra HD 4K (4096 x 2304) videosBuilt-in M.2 SATA 6Gb/s slots & 2.5″ SSD slots
Qtier technology and SSD cache enable 24/7 optimized storage efficiency
The Network & Virtual Switch app assists network traffic distribution, and re-routes dedicated bandwidth for diverse applications
Triple HDMI output (including one HDMI 2.0) for smooth 4K video playback
Virtual JBOD (VJBOD) allows to use QNAP NAS to expand the  TVS-1282's storage capacity