Beskrivning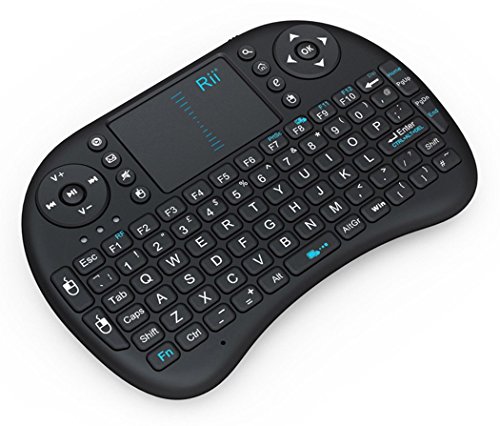 buy now

£11.56



Features:
92 keys, 2.4Ghz wireless Keyboard with Touch Pad.Touch Pad DPI adjustable functions.
Built-in high sensitive smart Touch Pad with 360-degree flip design.
Mini QWERTY keyboard with multimedia control keys and PC gaming control keys. Auto sleep and auto wake mode.
The Ergonomically hand held design is easy to carry and operate.
Build-in removable rechargeable Li-ion battery that has longer standby time.
Easy operation:
Step 1: take out the USB Dongle placed in back slot of the keyboard
Step 2:plug the USB dongle on your device's USB Port.
Step 3:Turn on the mini wireless keyboard
Please note:
1. if your device has large monitor, such as smart TV and android TV box,there may have following problem:
A:short range,can only use in less than 3m
B:when press "a","aaaa…." appear
C:uncontrollable cursor
Please use the three port extension cable we shipped to you to solve them: plug the USB dongle on the extension cable and plug extension cable on your device. Please make sure the cable main part is front of monitor
2.When blue LED stays on, it means it has been paired successfully. If it's not on,please do as follow to pair:
Step1: Keep your PC on, and be sure the keyboard is full of power.:)
Step2:Press the " F1″ without releasing.
Step3:Power on the keyboard and release the " F1″ immediately.
Step4:Plug the USB receiver on the USB port of your PC.
3. FN+F8 =enable / disable Touch Pad mouse function
FN+SPACE=Adjust cursor speed (DPI)
After 3 minutes without any operating will into sleep mode, press any key about 1s to wake up
Box Contains
1 x 2.4Ghz wireless keyboard
1 x USB dongle(placed in back slot of the keyboard)
1 x three port extension cable
1 x user manual2 in 1 Multifunction 2.4Ghz Mini Wireless keyboard, TouchPad bundle
Perfect combo: 92 keys Wireless Keyboard + Touchpad
Perfect for PC Pad Android Tv Box Google TV Box smart tv HTPC IPTV.Since some smart TVs don't support external input device such as Samsung. Before order, please test if it works with wired keyboard
Built-in high sensitive smart touchpad with 360-degree flip design. Power Save Design: With auto sleep – wake up function for power
How to use it on Amazon fire tv: use an app called app2fire on android you can send any app to fire tv then run it so for example google chrome. Just note that it only works on side loaded application