Beskrivning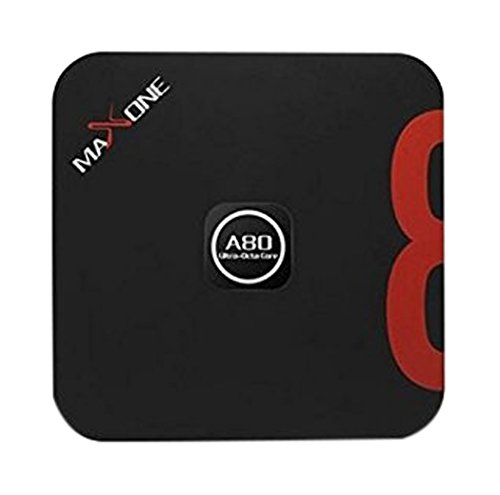 buy now

£160.79



This TV box comes fully loaded with the best XBMC/Kodi add-ons. It's as easy as:
1) Connect to the internet via Wi-Fi or Ethernet
2) Open TVMC
3) Press the "Click Here to Finalize TVMC Installation" button.
4) Click one of the pre-installed add-ons
5) Watch whatever takes your fancy.
This is the preloaded version of the MaXone, and so Netflix, Plex, Showbox and Mobdro are pre-installed.

Please note: We do not make and are not affiliated with the third party add-ons that come pre-installed in this device. So if temporarily some add-ons are broken please just wait and their developers will have them up in no time. In the meantime you can just use another one of the pre-installed apps so your never without your home entertainment.

Hardware Spec:
OS: Android 4.4
Language: Support Multi-Language
CPU: ALLwinner A80 Octa-Core ARM Cortex A15/A7
GPU: 64-Core Power VR G6230
4GB DDR3 Ram (3.07GB Available)
32GB EMMC storage
Dual band a/b/g/n/ac 2.4Ghz or 5Ghz Wi-Fi
Bluetooth 4.0
Interface:
1x HDMI1.4b
2x USB2.0 Host,1*USB3.0 Host
1x SPDIF
1x SD Card slot up to 64GB
1x AV Port
1x Gigabit Ethernet
1x SATA Port
Package Includes:
1x Octa Core tv box
1x User manual
1x 12V/2A UK 3 pin charger
1x Remote control
1x HDMI cable
1x SATA
XBMC (Kodi) Full HD 1080p Media player, stream and play Movies, TV Shows & Sports etc. from the internet, supports subtitles.
Superfast Allwinner A80 Octa Core 1.6Ghz CPU – Powerful 64-Core Power VR G6230 Graphics Processor
Supports files directly from USB drive, SDHC cards, Sata Drive and External HDD or stream from the internet.
You Can control this device using your android phone by the Google Remote app
Supports bluetooth remote control, game controllers and more. Uk seller with 12 months Warranty and automatic Updates!