Beskrivning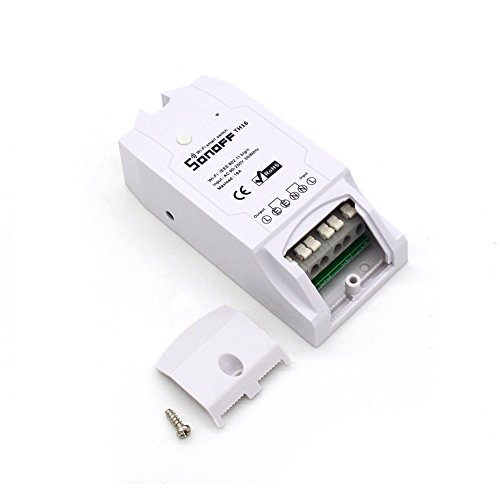 buy now

£14.90



Sonoff TH16 is a smart switch version of Sonoff which can monitor and set temperature and humidity through the iOS/Android APP EWeLink. For now the Sonoff TH device supports two current supply specifications: 10A or 16A. we have the SONOFF TH10(10A)for your choose if needed.
Sonoff TH 16 supports presetting the range for temperature or humidity. When the temperature or humidity of the environment fall within the range, it will automatically turn on or off the connected devices.Sonoff TH 16 supports three kinds of temperature and humidity sensors,mentioned below: AM2301, DS18B20, DHT11. you can create a series of simple conditional statement (Smart Scene) via the APP EWelink.Now all the Sonoff Series can perfectly works with Amazon Alexa. Paired with Amazon Alexa, you can control your lamps and appliances with your voice.
Please NOTE :We are separately selling two kinds of sensors: AM2301 and DS18B20(measures temperature only) for SONOFF TH10/SONOFF TH16 . The sensors are not included in the package box.
Specification:
Voltage range: 90-250v AC(50/60Hz)
Max current: 16A
Max Power: 3500 Watts
Dimensions: 114*51*32mm (L*W*H)
Color: White
User Manual for Sonoff TH WiFi Wireless Switch: http://ewelink.coolkit.cc/?p=149Smart remote control switch: You can check your home appliance status anytime & anywhere, and control them on/off with just a click on your smart phone or tablet via APP EWeLink. It's no limit to the distance.
Set time schedules for automatic control: It has single, repeating, and countdown timers that you can use to control home appliance on/off automatically.
Set smart scenes to control devices by Temp. & Hum: Working with Sonoff temperature & humidity sensor (AM2301, DS18B20), Sonoff TH16 can detect the real-time temperature & humidity of the environment and set up a temperature/humidity condition to control connected home appliance, even the ones connected with other Sonoff products, such as Sonoff, Sonoff RF, Sonoff SV.
Compatible with Alexa/Google Home/IFTTT: Link "eWeLink Smart Home" skill on Alexa app, you can ask Amazon Echo/Echo Dot/Amazon Tap to turn on/off your Sonoff devices; Link "Smart We Link" on Google Home app, start to voice control your Sonoff devices on Google Home. Link"eWeLink Smart Home" on IFTTT app, start to use IFTTT supported app and services to control your Sonoff devices.
NOTE: 1. Please cut off the power before installing the device. 2.The router must be 2.4GHz (5.0 GHz WiFi is not supported), but there is no limitation for smart phone network (2G/3G/4G/WiFi network is ok).