Beskrivning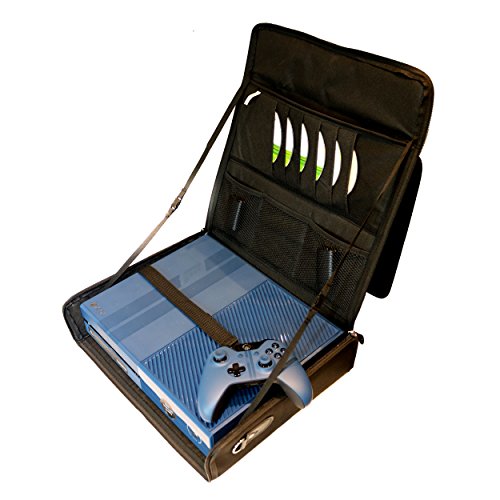 buy now

£49.99



DESIGNED FOR Your Xbox Console, 2 Controllers, Cables, Discs and Accessories. Awesome bag for carrying your items. Looks Stylish, Professional and Compact in Size. Take it with you and Stay Organised.
TRAVELLING Perfectly sized to meet Hand Luggage Restrictions. Ideal for Most Airlines. Pack your bag to the max and avoid paying extra baggage costs
.
SAFETY & PROTECTION Ultra protective & professional. Primary concern is safety of your console. Unique fabric provides extra protection. Protects against accidental bumps,reduces damage by impacts, keeps items absolutely safe.
ADJUSTABLE SHOULDER STRAP For use with Comfortable Handles.For Convenient & Stylish Carrying. Adjust or remove strap to meet your weight & height requirements. Remove Altogether and use as a Carry Case
.
TOP QUALITY FABRIC Known for its durability. Luxurious finish at affordable prices. Cutting edge of fashion trends. Neat and Stylish Look. Best in Design, Colour, Material and Useability. Can Resist water and wear and tear for a long time.
SMART & WELL ORGANISED Providing pockets and loading zipper to neatly arrange your Xbox and Accessories. One way zip for easy access.
SUITABILITY Him, Her, Young People and Business People
.
DIMENSIONS NOTE: CARRY CASE DOES NOT COME WITH CONSOLE OR GAME DISCS. USED SOLELY FOR DEMONSTRATION PURPOSES. FANTASTIC QUALITY AT A BARGAIN PRICE If you are wanting to keep your console safe and secure whilst on the move then
ADD TO BASKET and purchase one today
PERFECT For Travelling & Being On The Move With Padded Shoulder Strap Reducing Chafing & Providing Extra Support To Your Neck Back & Shoulders.
COMPATIBLE With Xbox ONE, Xbox 360 & Playstation 4 Keeping Your Accessories Organised & Protected.
IDEAL For The Frequent Flyer. Use It Once When Travelling & You Will Never Fly Without It.
UNIQUE Fabric For Maximum Protection Against Knocks & Scratches Keeping Your Console Safe & In Good Condition.
GREAT Gift For Young Students Adults & Business Users. Stylish Professional & Compact In Size.