Beskrivning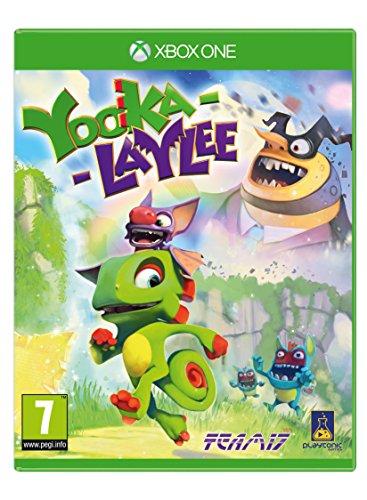 buy now

£27.99



Yooka Laylee is an all-new open-world platformer from key creative talent behind the Banjo-Kazooie and Donkey Kong Country games. Newly-formed as Playtonic Games, the team is building a spiritual successor to its most cherished work from the past! Playtonic's new heroes, Yooka (the green one) and Laylee (the wisecracking bat with big nose) were conceptualised for stellar platforming gameplay, created by the same character artist behind the rebooted Donkey Kong family and legendary N64 heroes Banjo and Kazooie. Across more than five vast and beautiful game worlds, Yooka and Laylee will use their arsenal of special moves to tackle a huge variety of puzzles and platforming challenges in search of Pagies, the golden bounty used to unlock – and expand – new playgrounds, each jammed to the gills with oddball characters and hulking bosses. The magical Pagies will assist the buddy-duo in their ultimate mission to thwart corporate creep Capital B and his devious scheme to absorb all of the world's books… and convert them into pure profit. Yooka-Laylee Features: Yooka and Laylee boast an awesome arsenal of abilities. Expand your favourite worlds into even larger playgrounds. More than 8 additional unique multiplayer games. Discover unique boss fights, mine cart challenges, quiz shows and a co-op mode.Yooka and Laylee boast an awesome arsenal of abilities built for platforming fun and unlocked with added freedom from the serpent salesman Trowzer.
Discover unique boss fights, mine cart challenges, retro-tastic Arcade games, quiz shows and more than 8 unique multiplayer games.
Establish your own buddy-duo and adventure through Yooka-Laylee in co-op mode. Taking control of a unique co-op character, a second player can assist Yooka and Laylee by stunning enemies and helping them tackle tricky challenges.
Purchase and unlock moves with freedom, choose to expand your favourite worlds into even larger, more complex playgrounds and equip unique Tonic gameplay modifiers to customise your play style.
Seek out a roster of shiny collectibles with gameplay progression at their core
Meet (or beat) a huge cast of memorable characters brought to life by the art and audio teams behind legendary platform games. Expect all manner of grunts, squeaks and squawks.