Beskrivning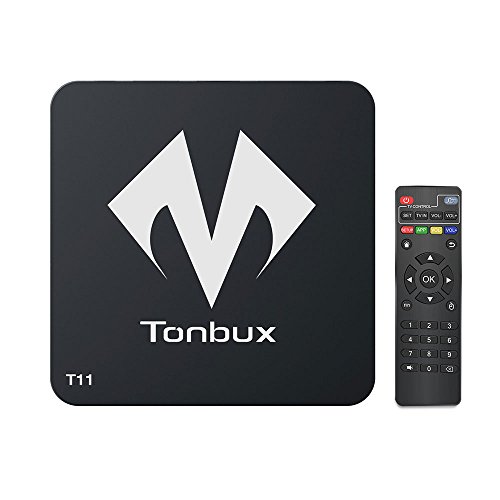 buy now

£39.95




Why choose Tonbux T11 4K Ultra HD Android TV Box
Bring you 4K Ultra HD streaming capability
Tonbux T11 now brings you 4K Ultra-High-Definition streaming capability, giving you a best-in-class television experience with true-to-life picture quality when used with compatible 4K Ultra HDTVs – something Apple TV and Chromecast don't support.
More streams in 1080p with H.265 decoding
Tonbux T11 is built to support High Efficiency Video Coding (HEVC).Its H.265 decoding will deliver more 1080p high-definition streams than ever before – even if you don't own a 4K TV. HEVC is approximately 2x more efficient at encoding video than the current industry standard, which means less bandwidth is needed to deliver high-quality video streams.
50% more processing power
An all-new quad-core processor with 50% more processing power than the general tv box,a dedicated Penta-core graphics engine, 64-bit architecture, make sure everything(gaming and streaming) about Tonbux T11 is fast and fluid.
NEW powerful Android 6.0 OS
Featured with the LATEST Android 6.0 Marshmallow system, this powerful android TV box is more stable than android 5.1 operation system. With this android TV box, you can access to thousands of films, TV, live Sport, Music etc at home and abroad, turning your TV into Smart TV.
Preinstalled
Preconfigured with the latest APP, it allows you to download numerous add-ons, like Youtube, Netflix, Facebook, Twitter, Skype, and you also can play thousands of android games in a large screen smoothly. Install your favorite apps and enjoy advanced technology.
60days Money Back Guarantee
At Tonbux, we believe in our products. That's why we back them with an 60days money back guarentee , 90 days exchange, 12 months repair warranty and provide friendly, easy-to-reach support.
Strong Android 6.0 Marshmallow OS, the newest generation of android tv box. Preconfigured with the latest APP, hundreds of streaming add-ons available. support Ultra HD hardware acceleration, with many add-ons fully loaded.
Android on your TV. Install your favorite apps from the Google Play Store. Thousands of apps are compatible with the Tonbux® T11 Ultra HD 4K Android TV Box.
The CPU is Amlogic S905X Quad core ARM Cortex-A53 & 64 bits, up to 2.0 GHZ, is way ahead in image processing and computing. Support up to 4K Ultra HD: 4K*2K resolution,will be 4 times than 1080p resolution. Awesome home theater and gaming experiences.
Converts Smart TV into Smart PC, or regular TV into Smart PC, Full Web Browsing, Picture Viewing, Social Networking, make phone calls with Skype, online video chat, Play Video Games, and so on. Amazing for college dorms, bed rooms, home theaters, anywhere you need some entertainment.
We believe in our products. We back them all with 60 days money back guarentee ,12 months warranty and provide friendly, easy-to-reach support.