Beskrivning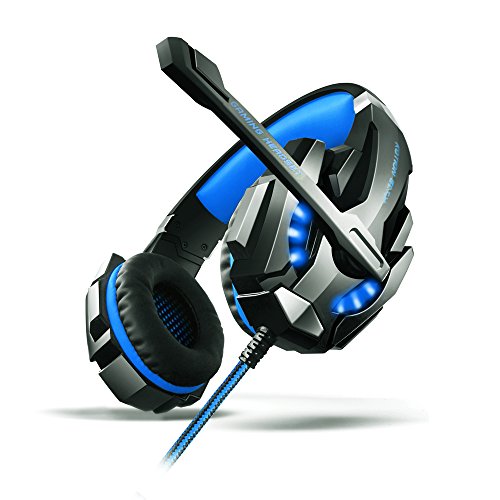 buy now

£19.99



AOSO G9000 LED Gaming Headsets is designed for people who are passionate about the game. It possesses uncompromising audio, long lasting comfort, and robust portability which fully meet the demand of all the gamers. This is how games were made to sound.
Uncompromising audio-40 mm dynamic drivers
Packing high performance, custom-tuned 40mm neodymium magnet dynamic drivers, the AOSO G9000 delivers crisp, natural sounding acoustics for an amazing audio experience.
Superior sound isolation for distraction-free other playback
With the over-ear design and leatherette sealant of the headset's ear cups, block our all unwanted, ambient noise and only hear the awesome, intense audio of your games and music for an outstanding headset experience.
Portability and durability -compact yet robust construction
Featuring a fully adjustable architecture, the AOSO G9000 LED Gaming Headsets is built to be lightweight and super comfortable. It meant for you to take wherever you go. The construction is sleek and compact, allowing for easy transportation, yet incredibly robust for endless hours of use.
Specifications
Driver diameter: 40mm
Impedance: 32Ohm
Sensitivity: 105dB +/- 3dB at 1KHz
Frequency range: 15Hz-20KHz
Mic dimension: 6.0 * 5.0mm
Mic sensitivity: -38dB +/- 3dB
Mic impedance: 2.2kohm
LED working voltage: DC5V +/- 5%
Headset interface: 3.5mm + USB (USB for LED light)
Cable length: Approx. 2.2m / 7.22ft
Color: Black-red, Black-blue
Headphone size: Approx. 20 * 9 * 21.5cm / 7.9 * 3.5 * 8.5in
Headphone weight: 330g / 11.6oz
Package size: 22 * 9.7 * 23.6cm / 8.7 * 3.8 * 9.3in
Package weight: 538g / 1.17Lbs
Package Including
1 x AOSO Each G9000 Pro Gaming LED Headsets
1 x 1 to 2 3.5mm jack converting cable
1 x User Guide
AOSO life time technology service
Everything is nicely packed in one retail packaging.Superior Performance: High precision of 40mm neodymium magnet dynamic, bring you stereo surround sound, and EMI/RFI shielding to prevent electromagnetic/radio-frequency interference. Experience everything from the big booms.
Stylish Comfort: 20mm thick plush leatherette ear cushions are finished by 4D Round Cutting Process. Slip into comfort you can enjoy for hours and a look you can take anyway.
Pro Gamer Mic: Adjustable microphone insert with noise cancelling technology, which could pickup your voice in all directions. Easily chat with friends without any external noise disturbance.
Universal Compatibility: With one 3.5mm gold plating jack, and one complimentary 1 to 2 jack adapter, make it's suitable for PlayStation 4, PC, Laptop, MacBook, iPhone, iPad Pro, Samsung, Desktop Computers and other audio devices. No driver needed. Plug and Play.
Package Included: AOSO Each G9000 Pro Gaming LED Headsets, One 1 to 2 jack converting cable, User Guide, AOSO life time technology service. Everything is nicely packed in one retail packaging.Found more prodcuts ON SALE in our store!