Beskrivning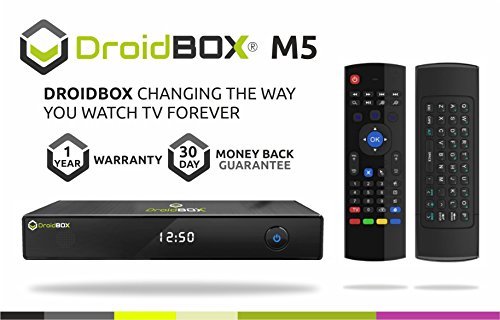 buy now

£63.01



DroidBOX M5 Android TV Box with DroidBOX VIP mini keyboard – Kodi 15.1 Isengard AirPlay UPnP DLNA IPTV Mini Web Streaming HTPC Player, QuadCore Amlogic S805 1Gb Ram, 8GB Internal Memory, WiFi, 100mbps LAN, 1080P 3D, Mali400 High Performance 3D GPU Description change to:TheDroidBOX M5 is your all in one social media hub. For people who prefer a more traditional looking device, the M5 with its set top box-like appearance is often their first choice. Based upon the Amlogic S805 SoC and support for 1080p H265 video, this model is purchased by many for relatives who are not as tech-savy, and feel less comfortable with gadgets surrounding them. OTA support streamlines the process for future firmware upgrades. DroidBOX M5 comes with DroidBOX Media Center based on XBMC/Kodi 15.1 Isengard. DroidBOX M5 Specifications: * OctaCore Mali450 High Performance 3D GPU * Amlogic S805 QuadCore 1.5Ghz Cortex A9 Neon CPU * 1GB RAM (DDR3) * 8GB Total Internal Storage * USB Storage Extendable (Flash Drives/HDD) * SD Storage Extendable (Up to 32GB!) * 100 Mbit Ethernet adapter Bluetooth 4.0 * 802.11b/g/n Wifi * HDMI v1.4b 1080p output * Fully Rooted! * Comes with DroidBOX VIP Mini keyboard Why DroidBOX®? Dedicated support team Dedicated Live Support Chat Remote support through DroidBOX QuickSupport App (preinstalled) Support forum with more than 1000 members – visit DroidBOXforums.com UK Based company The only UK company for Android TV boxes with in-house developers. We do provide VAT invoice Worry fr-ee 1 year extensive device service with phone, live chat and email supportNew to this sort of system? Easy access to our video guides & fixes mean a problem won't last long! Whether or not Kodi is familiar, DroidBOX's Control Centre is there to help. Our Launcher is designed & developed by DroidBOX just for our customers.
Hunting for more media to watch, need apps that can tweak settings or perhaps large screen gaming is your preferred way to pass the time? With hand-picked apps that expand the possibilities on offer, DroidBOX Market is your one stop shop!
Interactive remote control/streaming system for smartphones/tablets. Stream music/videos to your DroidBOX. Open apps remotely, all with DroidBOX Share. From a DroidBOX device to (effectively) a Chromecast! Cast phone/tablet/PC's YouTube in Chrome.
Kodi/DBMC: Think of these as storage. You decide what to store there. If you like films, you would store access to these, perhaps with some music access on top.
As time goes on, code tends to be improved and built upon, whether entire applications, Android version or simply a graphical tweak. With updates handled easily & directly on the device, our system ensures you can upgrade with just a few clicks.