Beskrivning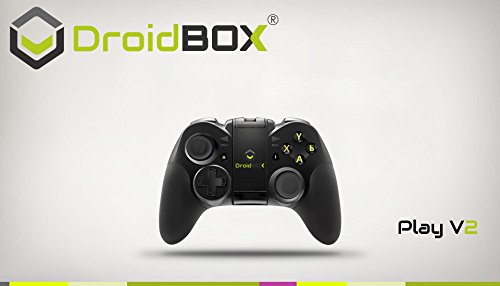 buy now

£24.01



The DroidBOX Play Gamepad is a newly designed wireless Bluetooth gaming controller, compatible with Android platforms. It can be connected to mobile phones, tablets and Android set top boxes running Android OS.
The DroidBOX Play features:
•Bluetooth connection (driver installation not required), and a connection time of 3-5 seconds. it can be controlled within a range of 6 to 8 metres.
•Built-in lithium power cell to last up to 20 hours.
•An adjustable bracket which the phone can be cradled in to play games.
•Power saving mode automatically activates after 10 minutes without use.
•OS Support: Android 4.2.2 and above
•12 configurable gaming buttons.
•Six axis Dual analogue joysticks
•Digital D-Pad
•Natively supports many of the popular games on Android.
The DroidBOX Play Gamepad supports the DroidBOX T8-S Plus, T8-S, T8, X7 and X8-Ultimate in addition to other Android TV boxes, Tablets and Phones. It can also be connected via the USB cable for operation on your PC or laptop.
It is compatible with a large number of Android games and emulators from the Google Play Store or other sources. Games include Conduit HD, DEAD TRIGGER 2, Grand Theft Auto: San Andreas,, Horizon Chase – World Tour, Pac-Man 256, Sonic The Hedgehog and UNKILLED. Emulators include MAME4droid, Reicast, ePSXe, Mupen64+AE and PPSSPP.
The DroidBOX Play Gamepad features an ergonomic design that is comfortable to hold, ideal for extended gaming sessions. It also features a non-slip coating on the controller and buttons that helps prevent slippery handling in the heat of an head to head battle.
•Supports most major games such as DEAD TRIGGER 2, and emulators such as ePSXe
•Rechargeable Li-Ion battery with up to 20 hours gameplay.
•Bluetooth 3.0 wireless transmission can support 6~8M effective distance of operation
•Six axis Dual analogue joysticks, Digital D-Pad and 12 configurable gaming buttons.
•Compatible with DroidBOX T8, T8-S, X7, X8-U, Android TV boxes, Android Tablets and Phones