Beskrivning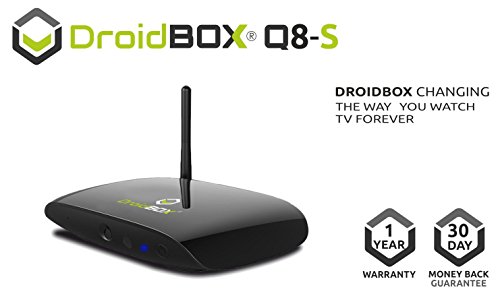 buy now

£68.92



Kodi 17 Ready! These devices meet Kodi's Krypton build requirements. Upon release of a stable version of Kodi 17/Krypton, an update will be made available by DroidBOX to ensure the upgrade goes smoothly.
The new DroidBOX Q8-S is our newest all in one social hub and media player. The DroidBOX Q8 will revolutionise the way you watch television, giving you access to unlimited video content and chat to your family and friends. Pre-loaded with the latest Kodi 15.2 Isengard, it allows you to browse the internet and stream HD video from the web directly onto your TV. Whether you're looking for live Football, want to watch a specific episode of your favourite American TV Series, or want to catch up on your favourite TV dramas from Hong Kong, China, Japan, India or Europe, the DroidBOX Q8 allows you to stream it whenever you want. If you have a HDD full of TV shows and movies, or a vast collection of DVD's, the DroidBOX Q8 TV box based on Android OS will make it obsolete overnight. Imagine having access to almost any TV programme and movie, stored in the cloud, on demand, at any time, without ever needing to download, save or transfer any files. You'll never need to purchase another external hard drive or run out of storage ever again. All our Q8-S devices are pre loaded with a custom version of XBMC / Kodi 15.2 Isengard
DroidBOX Q8-S Specifications:
* OctaCore PowerVR SGX6110 3D GPU
* RK3368 OctaCore Cortex A53 Neon CPU
* 2GB RAM (DDR3)
* 8GB Total Internal Storage
* USB Storage Extendable (Flash Drives/HDD)
* SD Storage Extendable (Up to 32GB!)
* 1000 Mbit Ethernet adapter
Bluetooth 4.0
* Dual Band 2.4GHz/5GHz 802.11b/g/n Wifi
* HDMI v2.0
* Optical Out, Supports DolbyDigital 5.1, DTS 5.1, DTS-HD, True-HD (Through SPCM based on Kodi) * Fully Rooted!
* 2mpx Camera * Comes with remote control
New to this sort of system? Easy access to our video guides & fixes mean a problem won't last long! Whether or not Kodi is familiar, DroidBOX's Control Centre is there to help. Our Launcher is designed & developed by DroidBOX just for our customers.
Hunting for more media to watch, need apps that can tweak settings or perhaps large screen gaming is your preferred way to pass the time? With hand-picked apps that expand the possibilities on offer, DroidBOX Market is your one stop shop!
Interactive remote control/streaming system for smartphones/tablets. Stream music/videos to your DroidBOX. Open apps remotely, all with DroidBOX Share. From a DroidBOX device to (effectively) a Chromecast! Cast phone/tablet/PC's YouTube in Chrome.
Kodi/DBMC: Think of these as storage. You decide what to store there. If you like films, you would store access to these, perhaps with some music access on top.
As time goes on, code tends to be improved and built upon, whether entire applications, Android version or simply a graphical tweak. With updates handled easily & directly on the device, our system ensures you can upgrade with just a few clicks.