Beskrivning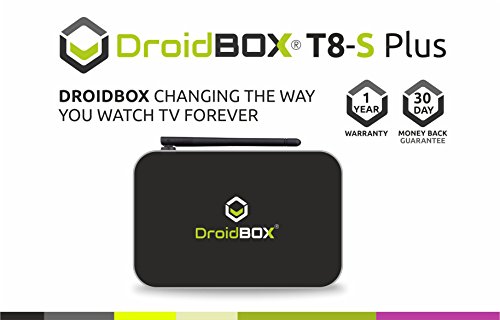 buy now

£92.46



The new DroidBOX T8-S Plus is our newest all in one social hub and media player. Key Features of DroidBOX Share:
DroidBOX Market will give you access to hundreds of apps for any type of media content


Stream any file (audio, video, photos, ms-office documents, txt, pdf, apk…etc) from android devices to TV


DroidBOX Share is a multi-screen interaction application for smart phone or tablet to interact with DroidBOX T8-S Plus


Use your android devices as touch mouse, air mouse, keyboard, touch pad and remote controller of TV


Stream camera and micphone of android phone or tablet to TV


Mirror TV screen to smart phone or tablet and touch the screen direct to control TV


Real-time scale, rotate or slide picture on android mobile device and show it on TV


Airplay & Support any DLNA certificated client, such as imediashare, BubbleUpnp…etc


Android 5.1.1 with Kodi 15.2 Isengard!


DroidBOX T8-S Plus Specifications:
* OctaCore Mali450 High Performance 3D GPU
* Amlogic S812 QuadCore 2.0Ghz Cortex A9 Neon CPU
* 2GB RAM (DDR3)
* 32GB Total Internal Storage
* USB Storage Extendable (Flash Drives/HDD)
* SD Storage Extendable (Up to 32GB!)
* 1000 Mbit Ethernet adapter
Bluetooth 4.0
* Dual Band 2.4GHz/5GHz 802.11b/g/n/AC Wifi
* HDMI v1.4
* Fully Rooted!
* Comes with IR remote
Ultimate performance Quad Core S812 CPU paired with the powerful Octa Core Mali-450 3D GPU Processor. DroidBOX T8-S two times as much power as all previous generation Android TV set top boxes.
Special Edition DroidBOX Media Center based on Kodi 15.2 Isengard designed by elite developers specializing in XBMC specifically for the DroidBOX provides the best experience with Android5.1.1 which is available only on authentic DroidBOX products.
You can enjoy watching any format media files with high quality video and audio including DolbyDigital 5.1 and DTS 5.1; The 32GB storage gives you space to install apps without having to always worry about running out of space.
Tons of free streaming add-ons available such as Kodiland and Wookie for Kodi 15.2 Isengard which will let you access channels from your satellite or cable service.
T8-S Plus comes with IR remote, Dual Boot Android and OpenELEC systems, has revolutionary remote control software DroidBOX Share (Android & iOS 9 supported) and embedded bay for up to 2TB 2.5 inch SATA HDD.