Beskrivning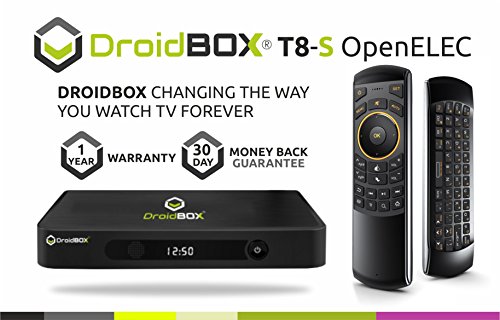 buy now

£117.88



Ultimate performance Quad Core S802 CPU paired with the powerful Octa Core Mali-450 3D GPU Processor. DroidBOX T8-S two times as much power as all previous generation Android TV set top boxes.
Special Edition DroidBOX Media Center based on Kodi 15.2 Isengard designed by elite developers specializing in XBMC specifically for the DroidBOX provides the best experience with Android 4.4.x which is available only on authentic DroidBOX products.
You can enjoy watching any format media files with high quality video and audio including DolbyDigital 5.1 and DTS 5.1; The 16GB storage gives you space to install apps without having to always worry about running out of space.
Tons of free streaming add-ons available such as Kodiland and Wookie for Kodi 15.2 Isengard which will let you access channels from your satellite or cable service.
T8-S comes with B52 remote, Dual Boot Android and OpenELEC systems, has revolutionary remote control software DroidBOX Share (Android & iOS 9 supported) and embedded bay for up to 2TB 2.5 inch SATA HDD.