Beskrivning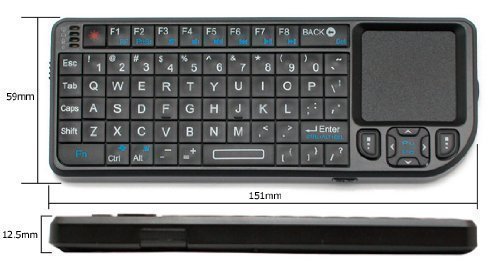 buy now

£18.94



It features 69 keys, a capacitive-sensing touch pad that's comparable to a real laptop touch pad, gaming-oriented navigation keys designed to be used as joystick controls, 26 LED's to use in low-light environments and Windows Media compatibility.
Product Features:
– Operation range: up to 10 meters
– Support Window 7 / Vista / XP / 2000, Linux (Debian-3.1, Redhat-9.0, Ubuntu-8.10, Fedora-7.0 tested or above)
– Built-in Lecture Laser Pointer and Backlight Function with a Handheld Keypad; Built-in Rechargeable Lithium-ion Battery!
What's in the box
1 x Wireless keyboard
1 x USB charging cable (Can be charged using the USB port on your laptop/Android TV box or Desktop PC)
1 x 2.4G Receiver Adapter
1 x User Manual
3-in-1 multimedia wireless keyboard (Keyboard, TouchPad, Laser Pointer)
This keyboard and mouse can be used on many devices including Android smart TV boxes, Video Games Consoles, Windows tablet and mini desktop.