Beskrivning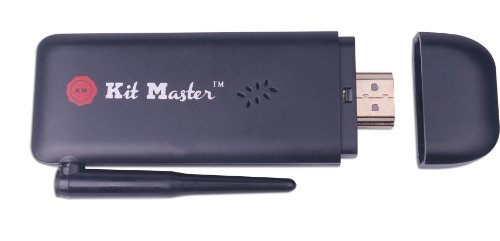 buy now

£39.99



KitMaster® revolutionary Dongle EZ Cast is the all-in-one Media Streaming solution- makes any TV to a Premium Smart TV.
Note: This dongle has antenna which means it provides you better signal and strength.
Easy and quick installation via HDMI to your TV. Installation needs two minutes.Switch to the corresponding HDMI channel of your TV and follow the steps displayed for first configuration.
For Android, Apple iOS, Windows or iMAC download the corresponding App or Software as displayed on the start screen. QR codes available, scan from the screen.
For DLNA or MiraCast no need of additional software. Your device has to support the standard. Activate the corresponding mode (DLNA oder Miracast) and start data transfer.
It has a wide range of exciting onboard apps, controlled from your device. Access online or locally stored content with ease. The KitMaster dongle is compatible with Windows, Mac, iOS and Android, so use it on multiple devices at home. KitMaster® Dongle also supports Miracast®, so broadcast whatever's displayed on a Miracast® enabled device in real time.
Hardware Specs
CPU: Actions (600MHz/1GHz)
RAM: DDR3-128MB
Storage: NAND Flash-128MB
AV Connector: HDMI
Port Connector: Micro USB
WI-FI: 802.11B/G/N
Core OS: Linux
UI: EZ Cast UI (Windows,iOS,Mac OS,Android)
Software Features
KitMaster® EZCast Dongle: Support Windows/MacOS/Android/iOS by EZCast APP(sharing local and web file to tv screen)
DLNA:DMP: Display photo, audio and videos base on DLNA protocol Android/IOS
EZMirror(Miracast): Support miracast function
Air Cast (Airplay): Support ios with Air cast
Harness the portability and capabilities of your desktop, laptop, iPhone, iPad, Android phone or tablet on HD TV or projector
Plugs straight into any HDMI slot on your TV or monitor, and directly connects to your device – wirelessly
Enjoy pictures, videos, and games in HD and HiFi – or give professional presentations – remotely
Wide range of exciting onboard apps; online or locally stored content access