Beskrivning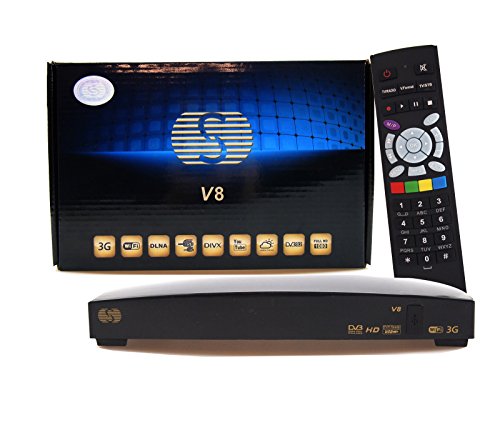 buy now

£43.11



Item Specifications :
Dual Core CPU, 600 MHz MIPS Processor
Support USB, Support USB WiFi, Support 3G modem
256M DDR III, 400M ROM, 8M Serial Flash
Support Youporn
Weather Forecast
Support WEB TV
Note :
Each and every box we sell, we will open and update with the latest channel list.
Our boxes are 600MHz while other sellers 396MHz boxes which are cheaper and less powerful meaning less reliable.
Features :
Fully compliant MPEG-4 H.264/AVC Main Profile Level 3 & High Profile Level 4.1
DDR III 256M ,ROM 400M,Serial Flash 8M
High light LED Display
Dual-Core CPU, 600 MHz MIPS Processor
DVB S2 demodulator
Support WEB TV
MPEG-2 MP@HL & MP@ML;MPEG-1 Layer I & II & III, Digital Audio(AC3).
SCPC & MCPC receivable from C/Ku band satellites.
Multiple LNB-Switching control (supports DiSEqC1.0/1.1/unicable/1.2/1.3(USALS) supported)
NIT search supported.
Support MPEG-5.
Support HDMI 1.3.
Support PVR(store in USB disk).
Multimedia files playback(by USB).
Package Include :
1 x V8S Satellite Receiver
1 x Remote Control
1 x HDMI cable
1 x Power Supply (UK 3-Pin Plug)
1 x User Manual
100% Genuine with Best Quality ✓ / Support HDMI 1.3 ✓
Locally shipped from the UK ✓
All Free FTA Channels Supported ✓
Latest Firmware Installed ✓
Dual-Core CPU, 600 MHz MIPS Processor ✓ / 3-Pin UK Power Supply Adapter ✓