Beskrivning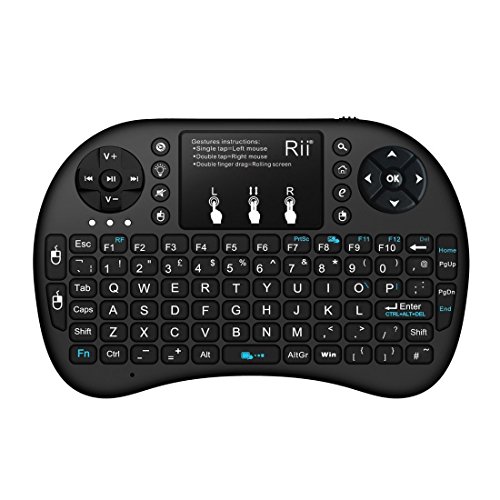 buy now

£14.99



Quick View
This is a wonderful combo, 2.4GHz Mini Wireless QWERTY keyboard, Touch Pad combo, New increased backlit LED with USB interface adapter for the lecture,manager, presenter and others, from within a 15′ radius make a presentation and operate PC wireless. Change slides and screen options, write on the screen, emphasize words and objects just by using this wireless mini keyboard and mouse with Touch Pad. Perfect for PC, Pad, Android TV Box, Google TV Box, etc.
Features:
92 keys, 2.4Ghze wireless Keyboard with Touch Pad.
Touch Pad DPI adjustable functions.
Built-in high sensitive smart Touch Pad with 360-degree flip design.
A new broken in classic Rii Mini i8+ ___ new increased LED backlit function, you can us it in black with LED light
Mini QWERTY keyboard with multimedia control keys and PC gaming control keys. Auto sleep and auto wake mode.
The Ergonomically hand held design is easy to carry and operate.
Build-in removable rechargeable Li-ion battery that has longer standby time.
Easy operation:
Step 1: take out the USB Dongle placed in back slot of the keyboard
Step 2:plug the USB dongle on your device's USB Port.
Step 3:Turn on the mini wireless keyboard
Please note:
1. if your device has large monitor, such as smart TV and android TV box.Please use the three port extension cable like this: plug the USB dongle on the extension cable and plug extension cable on your device. Please make sure the cable main part is in front of monitor
2.When blue LED stays on, it means it has been paired successfully. If it's not on,please do as follow to pair:
Step1: Keep your PC on, and be sure the keyboard is full of power.:)
Step2:Press the " F1" without releasing.
Step3:Power on the keyboard and release the " F1″ immediately.
Step4:Plug the USB receiver on the USB port of your PC.
3. FN+F8 =enable / disable Touch Pad mouse function
FN+SPACE=Adjust cursor speed (DPI)
After 3 minutes without any operating will into sleep mode, press any key about 1s to wake up
3 in 1 MultiFunction 2.4GHz Mini Wireless QWERTY keyboard, TouchPad combo, LED backlit with USB interface adapter UK Layout
Perfect combo: 92 keys Wireless QWERTY Keyboard + Touchpad which supports multi-finger functions, A single finger click as left mouse function, two-finger click as the right mouse function, double finger drag as the rolling screen
Built-in high sensitive smart touchpad with 360-degree flip design
Innovative Shape,Portable, elegant, Perfect for PC, Pad, Android Tv Box, Google TV Box, Xbox 360, PS3, HTPC, IPTV.Generally, this keyboard works well on smart TV. But different smart TVs have diverse systems,especially Samsung smart TV. so we can't make sure it is compatible with any system.:) Before you place order . Try the common wired keyboard and mouse on your smart TV.If the keyboard and mouse all work well, this keyboard-mouse combo can,too.
How to use it on Amazon fire tv:use an app called app 2 fire on android you can send any app to fire tv then run it so forexample google chrome the keyboard works as mouse and keyboard,just note that it only work's on sideloaded application's for example (google chrome , firefox , showbox) ps kodi is a native app on fire os 5 and our keyboards work on it without sideloading