Beskrivning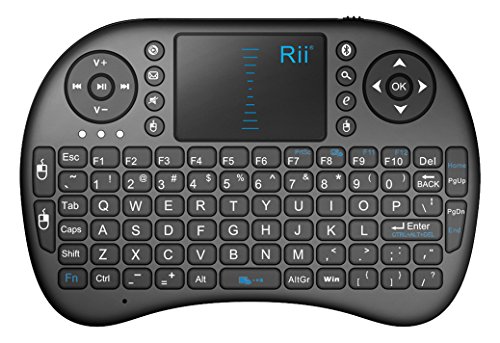 buy now

£13.17



Features:
92 keys, Bluetooth wireless Keyboard with Touchpad.
Touchpad DPI adjustable functions.
Built-in high sensitive smart touchpad with 360-degree flip design.
Mini QWERTY keyboard with multimedia control keys and PC gaming control keys. Auto sleep and auto wake mode.
The Ergonomically handheld design is easy to carry and operate.
Build-in removable rechargable Li-ion battery that has longer standby time.
Specification:
Operating range: 15 meters(MAX), without signal disturbance and no direction limit.
Operational voltage: 3.3V
Charge Voltage: 4.4V ~ 5.25V
Modulation: GFSK
Layout:US
Channel: 78 channels
TX Power: less than +5dBm
Transmission rate: 1M bit/sec
Frequency tolerance: +/-30ppm
Power consumption: 55mA(on), 1mA(sleep)
Battery Type: Built-in lithium-ion battery
Notice:
After 3 minutes without any operating will into sleep mode, press any key about 1s to wake up.
Package Including:
1 * Wireless keyboard
1 * Charging data cable
1 * User manual2 in 1 Multifunction Bluetooth Mini Wireless QWERTY keyboard, Touchpad combo
Perfect combo: 92 keys Wireless Keyboard + Touchpad
Built-in high sensitive smart touchpad with 360-degree flip design. Bluetooth USB dongle are not included
Perfect for PC Pad Android T Box Google TV Box smart to HTPC IPTV.Since some smart TVs don't support external input device such as Samsung. Before order, please test if it works with wired keyboard
How to use it on Amazon fire tv:use an app called app2fire on android you can send any app to fire to then run it so for example google chrome. Just note that it only works on side loaded application